Introspect Technology Further Enables Image Sensor Development with the First SLVS-EC Version 2.0 Protocol Analyzer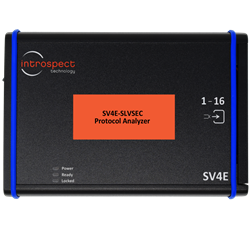 The SV4E-SVLSEC is packed with features that help at both ends of the product creation spectrum: from gaining in-depth insights during debug phases to reducing test times with go/no-go testing during production massive
MONTREAL, Quebec (PRWEB)
August 25, 2021
Insight Technology, a leading manufacturer of test and measurement tools for high-speed digital applications, today announced the introduction of the SV4E-SLVSEC SLVS-EC 16-channel, 6.5 Gbps protocol analyzer. This ultra-compact instrument enables the development, debugging and testing of image sensor and camera systems based on the Scalable Low Voltage Signaling Embedded Clock (SLVS-EC) Version 2.0 protocol. This protocol is also called JIIA EVI-001-2019, and it was recently published by the Japan Industrial Imaging Association (JIIA). Promising to enable extremely high frame rates and high-resolution sensing and vision solutions, this interface protocol supports high-bandwidth payload transfer using a signaling scheme integrated fully differential clock. It is ideally positioned to support future CMOS image sensor implementations targeting automotive and robotics applications. The SV4E-SLVSEC's unique analog front-end technology delivers high-confidence design validation at speeds far exceeding the latest SLVS-EC standards.
"The SLVS-EC Version 2.0 interface is emerging as a viable solution for a certain class of high performance CMOS image sensors that have traditionally relied on LVDS or SLVS signaling. Introspect Technology is excited to help leading image sensor manufacturers transition to this technology," said Dr. Mohamed Hafed, CEO of Introspect Technology. "In keeping with Introspect's tradition of supporting product engineers throughout the development lifecycle and high-volume manufacturing, the SV4E-SVLSEC is packed with features that help at both ends of the product creation spectrum. : from gaining deep insights during debugging phases to reducing test times with go/no-go testing during mass production," he continued.
Completely integrated solution

The most important feature of the SV4E-SLVSEC analyzer is that it is a fully integrated solution residing in a small form factor instrument the size of a large smartphone or small tablet. The analog front-end includes a linear amplifier, continuous-time linear equalizer, high-performance clock and data recovery (CDR) circuitry, and fine window and phase comparator controls. This makes it a true ATE-on-Bench solution that can be used during the early days of development and also during end-of-line mass production testing and calibration.
Multiple interface topologies

With 16 fully programmable channels, the SV4E-SLVSEC can be used to test both single-interface and multi-interface image sensor topologies. Additionally, each interface topology can be configured with different lane support. This flexibility means that a single test and measurement tool can be deployed across multiple applications, helping to support the fragmented roadmap strategies that are becoming increasingly common in modern product development paradigms.
Award-winning software

Control of the SV4E-SLVSEC goes through the award-winning system Introspective ESP software. The software strikes a perfect balance between ease of use and endless programmability. On the one hand, all capture parameters are easily accessible via property tables that allow one-click analysis of SVLS-EC packets and/or video frames. And, on the other hand, the software offers a complete integrated development environment based on Python, thus allowing the creation of automated tests in a few minutes.
Advanced trigger modes

Like all Introspect Technology analyzers, the SV4E-SLVSEC has a hardware-based analysis engine that allows captures to be triggered based on a wide range of conditions. Triggering can be event-based (eg, frame start), symbol-based (eg, startCode or other specified dataSymbol), or error-based.
The unveiling of Introspect Technology's SV4E-SLVSEC analyzer reaffirms the company's commitment to high-speed product engineers across a wide range of applications, interface protocols and deployment paradigms. The analyzer is based on a decade of research and development in ultra-compact analog measurement technology coupled with sophisticated signal processing and correction techniques. It is not only useful for verification engineers who perform traditional characterization tasks, but it is also ideal for FPGA developers and software developers who need fast signal verification tools or tools confirmation of hardware-software interoperability.
About Introspect Technology

Founded in 2012, Introspect Technology designs and manufactures innovative test and measurement equipment for high-speed digital applications. Whether it's the next smartphone or the Level 4 autonomy engine in a mobility solution, our award-winning tools are used to develop, test and manufacture next-generation products. In short, we help the world's leading technology companies make tomorrow's technology a possibility today.
Share the article on social networks or by e-mail: